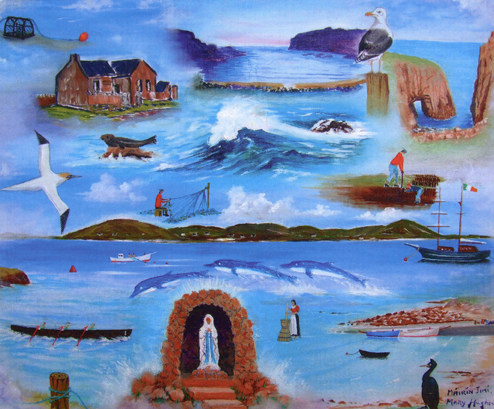 'Aisling Ghabhla'
Píosa ealíon crúthaithe ag triúr ealaiontóirí, Máirín Jimí, Mary Hughie agus Owenie Spink as Gabhla.
Tá líon airithe priontaí don phíosa (ola) ar fáil ach teagbháil a dhéanamh le 074 95 32571 nó 087 4134244
Luach €70 moide costaisí poist mas ann do.
'Aisling Ghabhla' or 'the Gola Vision', a piece of art created by three artists from Gola Island depicting the island and its main features as seen by the three islanders.
There are a limited number of prints of this original oil painting available.
Price €70 plus postage.
Contact details: 074 95 32571 or 087 4134244